Are you ready to head to Fort Myers, Florida, for a new house or condo?
You made a splendid choice, and we'd like to share a few reasons why. This section will cover all the wonderful reasons to live in Fort Myers, and why you should let Big Mike help move your stuff there.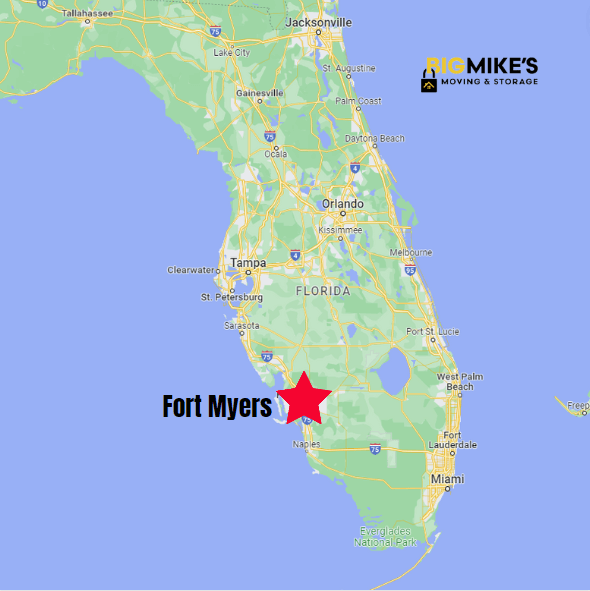 Fort Myers - Another Fantastic Part of Florida
It's one of the most affordable locations. Housing prices are over 20% lower than the national average.
Fort Myers is one of many gorgeous areas throughout the Sunshine State. Besides its beach proximity, you can enjoy other delightful landmarks such as the Calusa Nature Center & Planetarium, which includes a bird aviary, reptile house, and other fascinating exhibits.
Are you a transplant from the North and enjoy baseball? Well, this is the place to be for MLB spring training. Fort Myers is where both the Boston Red Sox and Minnesota Twins host their pre-season games. We're also within easy driving distance of several other popular teams.
Also, if you're from out-of-state and sick of the snow, then you'll love it here. Even in January, the average low is still in the mid-50s.
Like everywhere else in Florida . . . No State Income Tax!!
Big Mike's - How We Get You to Fort Myers with No Hassle
Since moving isn't as simple as taking a day trip to the beach, we operate a relocation business to help folks gather their belongings, pack them, and transport everything safely. These are just a few ways we offer convenient moving assistance at the most cost-effective rates.
We'll do whatever it takes to get you from "Point A" to "Point B" during your move. This covers everything from gathering packaging supplies and packing difficult items to loading and driving the truck for you.
Do you have special items like fragile china or computer equipment? Our team knows how to safeguard everything so that nothing ever gets loose or broken.
We're available to help you even with long-distance moves from outside of Florida.
If this interests you, and you'd like to know more about our 100% Price Guarantee service, then it's time to call Big Mike's Moving & Storage. Our headquarters is in Sarasota, FL, but we can help you get to and from just about anywhere in America. Contact us anytime to make a short or long-distance move much easier by calling 941-626-2356.